2012 TRIP TO JALISCO -
TEQUILA COUNTRY
Three amigos associated with the Tequila Connection website went on a 10-day trip to tequila country in September 2012. We attended the Tequila Expo in Tlaquepaque and visited several distilleries in the Los Altos and Tequila Valley areas. Here is the story.
TLAQUEPAQUE
As we dragged our luggage toward the pedestrian entrance to Mexico, we passed some US Customs Agents on the US side, one of them holding the leash to a frisky German Sheppard. The dog takes a whiff of each of us but when he gets a sniff of John, he seems to want more. Rene and I step aside as John and his luggage are searched. A memory flashes through my mind of when we were returning from last year's trip (Guadalajara airport agents riffling through our suitcases). I say to Rene "I hope this isn't a sign of what's to come". The search reveals nothing unusual and we are given the green light to proceed.

We flew into Guadalajara from Tijuana on Friday, 7 September 2012. We made our way by taxi to the quaint town of Tlaquepaque on the southeast side of Guadalajara. We checked into a little bed and breakfast called Casa Del Retoño conveniently located a short walk from the main plaza. Once settled in, we headed out towards the main plaza around 5:30 pm.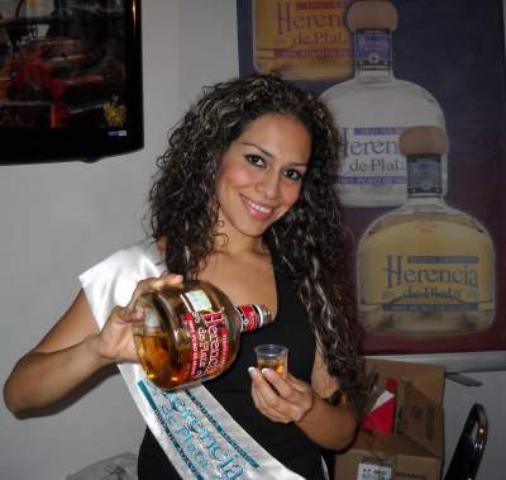 We decided to check out the Tequila Expo at the Cultural Center (a few blocks past the plaza). Surprisingly, the free event was not crowded when we arrived. We spent a couple hours mingling with the tequila representatives, taking photos and sampling tequilas. We told them we would return the following day to collect details and rate some of their brands.

We were pleased to see several familiar faces of brand representatives we'd met previously, mostly due to our attendance at annual Tequila Expos in Tijuana. We crossed paths with a noisy gang of attractive young women that apparently were deep into tequila tasting. They quickly huddled for a photo op, then vanished down the hallway in search of more drinks.

As it turned out, we spent several hours at the expo on Saturday and Sunday speaking with the representatives about their tequilas, tasting and taking lots of photos. The expo was better than we anticipated with agave harvesting demonstrations, formal tequila tasting seminars, many interesting displays and numerous tequila brands available for tasting and purchase. Hopefully this will become an annual event that we'll attend again.

To view photos of the Expo, chick here on:
2012 Tequila Expo in Tlaquepaque

Other moments worthy of mention during our stay in Tlaquepaque include some fun dining experiences, mariachi music, and some liquor stores with great tequila selections and prices.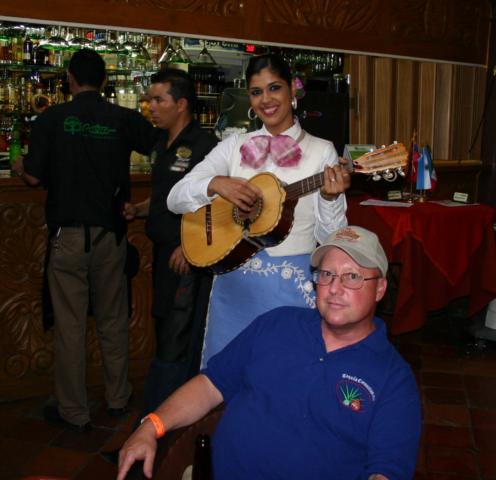 On Saturday afternoon, we ate an early dinner at the Patio Restaurant. The food was good, the beer was cold, the service was slightly slow and the entertainment was better than usual.

A group of female mariachis played for over an hour circulating around the restaurant.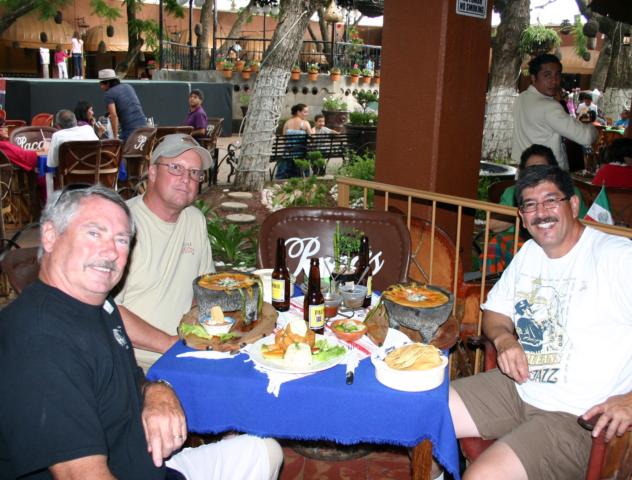 On Sunday, we had a meal at El Parián where mariachis performed on a center gazebo-style stage surrounded by an assortment of restaurants.

Again we were treated to good food, reasonable prices and lively music.

The Tequila Expo became increasingly crowded during the weekend evenings so we used this time to explore the central plaza and artsy walkways of Tlaquepaque.

Bordering the plaza is "El Tecolote" liquor store. They have great prices and a better-than-average selection. For example, John picked up a 750ml bottle of Cava Antigua Reposado for about $30 USD. This bottle, if you can find it, usually cost over $50 in Mexico.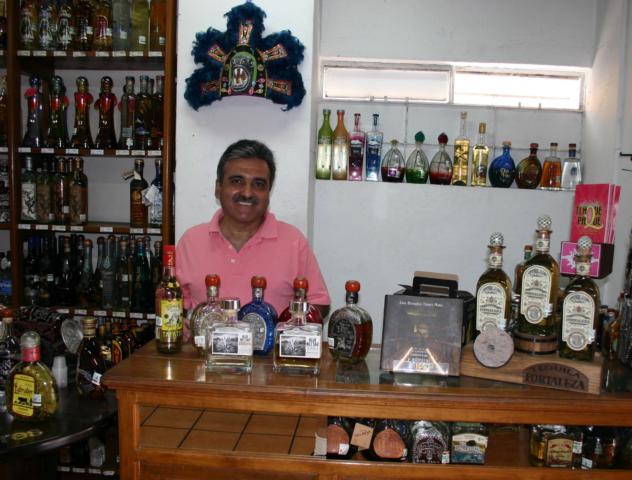 Another great place to shop for tequila in Tlaquepaque is "El Buho" located at Av. Juarez No. 164-B. We visited with the store owner, Emilio Ferreira (pictured on the left), and sampled some new brands including Blue Nectar Reposado Special Reserve. This tequila is somewhat unique in that it has .5% added ingredients of spice and agave nectar.

If you make it to Tlaquepaque, I recommend you check out the tequila deals at El Tecolote and El Buho liquor stores.

On Monday, September 10th, we headed for the highlands. We opted to take a taxi in attempt to save time (as opposed to taking the bus from Guadalajara to Arandas). However, our driver took a route under construction thus it took us 2 ½ hours to reach the Santa Barbara Hotel in Arandas.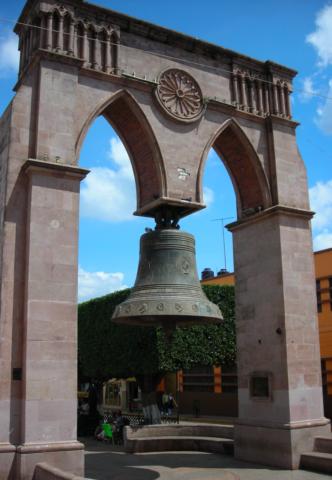 The lengthy trip was by no means relaxing. The taxi driver's aggressive style kept us on the edge of our seats most of the way. This guy gives new meaning to the term "tailgating" and no meaning to "pass with care". I noticed myself thrusting my right foot into the floor mat as if I had a break peddle down there. Upon arrival to our hotel, Rene discussed the possibility of a return trip with the driver. I remember the words in my head: "That ain't gonna happen."

After settling in to our hotel we had a free afternoon. Rene and I decided to show John the huge bell and beautiful Church in downtown Arandas.

We also did some shopping at the El Tesoro de Don Felipe Tequila office but had little luck trying to arrange a visit to their distillery.

I got the feeling the clerk was being protective as to the whereabouts of people we were trying to locate. Maybe it was my imagination. Maybe it was a precaution due to increased violence in Mexico, but it seemed peculiar at the time.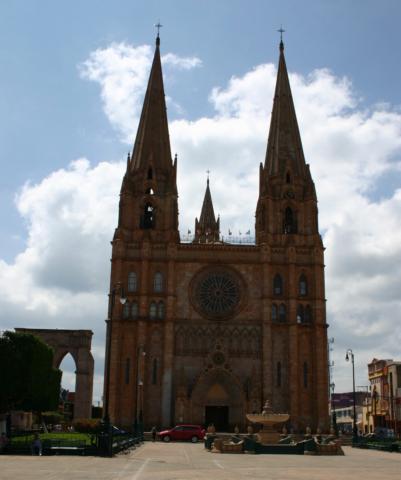 After a brief walkabout, we made our way to well-known Jaime's Restaurant for a belly-bloating carnitas feast.

Two mariachi bands played non-stop, alternating songs from different sides of the restaurant. After a king-size meal, we walked back to the hotel via the Shrek Bar where we watched the Chargers beat the Raiders on Monday Night Football. We were joined by some interesting characters. "Whisky Now" one thirsty patron loudly demanded!

Tuesday morning Juan Francisco from the Tequila Professionals and his photographer, Andres Ortega from ABC Design met us at the hotel for breakfast followed by a day of visiting distilleries. Juan was animated and entertaining during breakfast as he explained his dealings with the folks that oversee Mexico's tequila business.

Our first stop was the Galindo Distillery on the outskirts of Arandas. Owner and Master Distiller Miguel Galindo showed us around his facility while describing some of his production techniques. In the photo below, Miguel demonstrates the difference in viscosity resulting from a third distillation. Andres Ortega of ABC Design did some filming and videos have been posted on the Tequila Professionals website: Tequila Professionals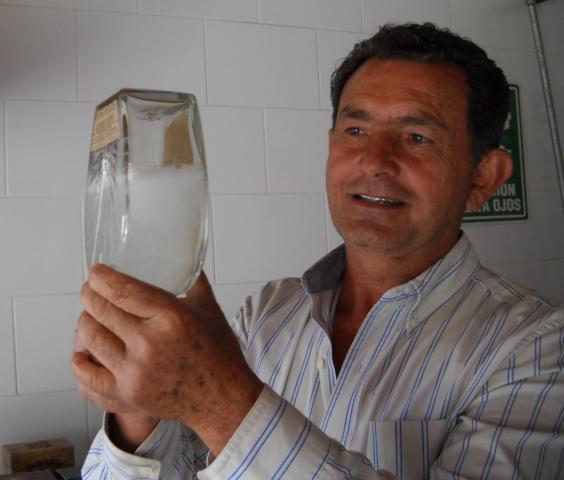 We sampled some of Galindo's tequila including his organic triple-distilled blanco. He sent us off each with a bottle of our choosing. Thanks a bunch to Miguel Galindo for all the hospitality!

Next stop was the Hacienda Vieja Distillery which turns out to be a short distance from our hotel. We are greeted by Yadira Hernandez, Quality Control Engineer, who proceeds to show us around the production area. Yadira led us on a very informative tour explaining the history of Hacienda Vieja. Owned by the Bañelos family, Cazadores Tequila was produced at this location in the 1980s. The need for expansion led to a new larger facility (where Cazadores is now made). The Bañelos family sold the 2nd Cazadores plant to Bacardi in 2002, but held on to this location to continue producing tequila under the Hacienda Vieja label. Although aging occurs at this location, it was noted their tequila is moved by tanker trucks to Guadalajara for bottling. Again, we took photos and Andres took video of some discussions with Yadira. Our appreciation goes out to Yadira Hernandez for her time and consideration.

A video of Juan Francisco explaining Hacienda Vieja's production process has been posted on the Tequila Professionals website and photos of Galindo and Hacienda Vieja Distilleries have been posted in our Distillery Photo Gallery.
Juan drove us down pot-hole ridden roads and a rugged dirt road to reach a couple other distilleries (Mexico Viejo and Agave Tequiliana). Unfortunately, his persistent attempts to gain entrance were repeatedly rejected because of plant maintenance (dangerous conditions), or a lack of communication (they didn't receive notice we were coming). Juan seemed somewhat perplexed stating he had contacted the distilleries previously to arrange our visits. By this time we were ready for another meal and this one certainly did not disappoint.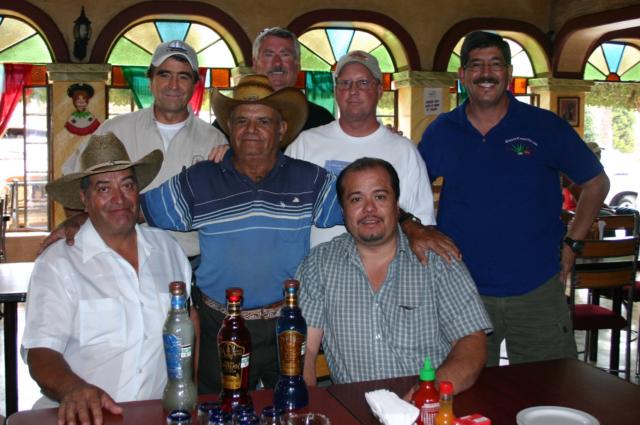 Juan (pictured top-left) drove us to the Santos Restaurant in the Los Altos town of Jesus Maria. Upon entrance, I remembered visiting this gem back in 2009.

We are seated and soon joined by owner Salvador Santos and one of his many sons, Pablo. We take some group shots while our drinks are brought to the table.

El Jefe Santos breaks out bottles of his line of Castelan Tequila for us to taste prior to and during our meal.

Pablo takes charge and orders some menu items which are served up "family-style".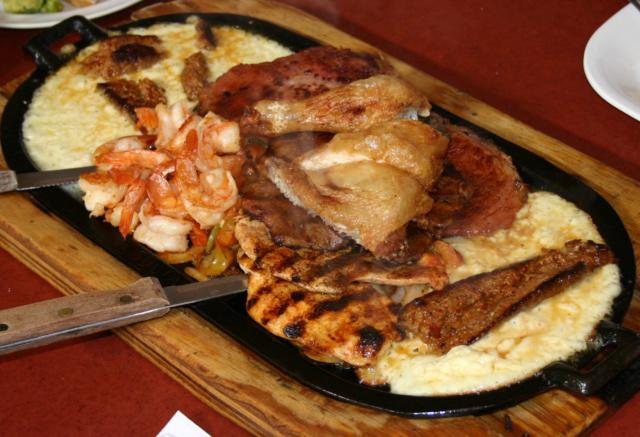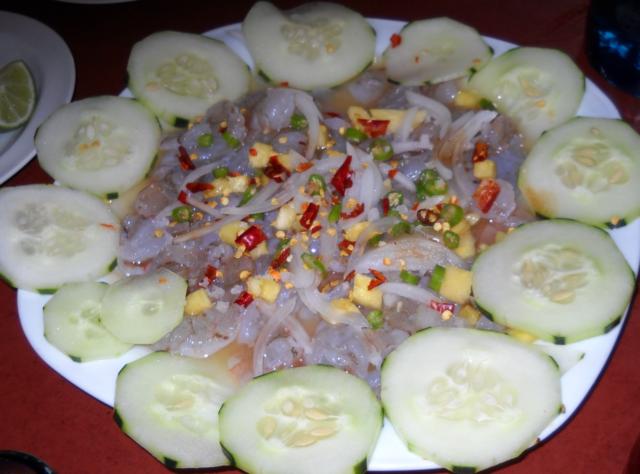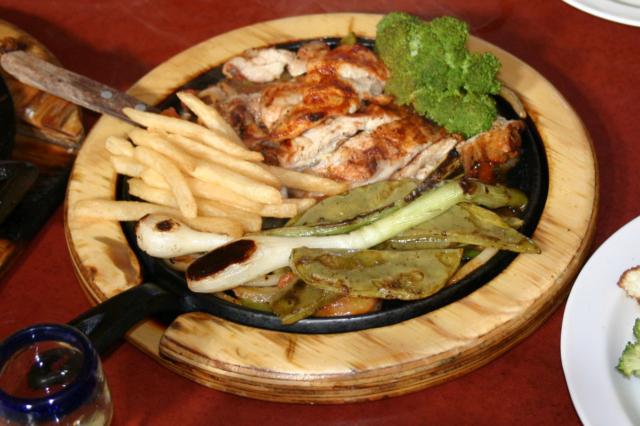 The food and tequila are both incredibly tasty! More food arrives, more drinks are ordered, and Santos' Sangrita is sipped along side another round of Castelan Añejo.

The restaurant walls are painted with murals of people who fought in the "War of the Cristeros" at this location back in 1926. One of those people is Salvador's papa, Miguel Santos. The Santos family has deep roots in the town of Jesus Maria.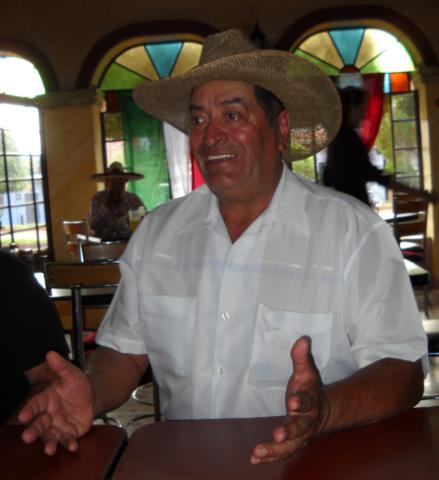 Pictured right, Salvador Santos explains his background in the restaurant business. He is a passionate man and this quality is certainly reflected in his food as well as his tequila. To top things off he gives us a batch of his wonderful Castelan tequila. I wound up with the Añejo (aged 3 years in new French oak barrels and only available locally). Two thumbs up to Salvador Santos!

After a long and satisfying meal, we head back to our hotel in Arandas. It turns out we didn't have time to visit any other distilleries.

Rene, John and I wish to extend our heartfelt gratitude to Juan Francisco for coordinating the distillery visits and escorting us on this enjoyable day. PART 2 - THE STORY CONTINUES