The San Francisco World Spirits Competition is the first comprehensive, international spirits judging ever held in the United States on an annual basis. Judging is based on a blind, consensual procedure ensuring competitive integrity, making this annual competition the most reputable and recognized competition in the spirits industry. The 2014 Competition will be held at the distinguished Hotel Nikko in downtown San Francisco, March 20th - 23rd, 2014. For more information, visit: http://www.sfspiritscomp.com/
5th Annual Agave Fest, Tucson Arizona, 3 May 2013
The celebration of all-things-Agave will take place on Friday, May 3rd at 7 pm on the Hotel Congress plaza. This year's event features tastings of over 40 agave-derived spirits including tequilas and mezcals; sotols and more. Tucson's most renowned bartenders will have the opportunity to showcase their own agave-based creations in any cocktail other than a margarita, in a friendly competition meant to show off the versatility of agave-based spirits. For more information, visit: http://hotelcongress.com/music/5th-annual-agave-fest/
8th Annual Tequila Tasting in Gilroy CA, 3 May 2014
Join the Latino Family De Gilroy for their 8th Annual Tequila Tasting Event May 3rd from 3 p.m. to 7 p.m. Enjoy fine tequilas and traditional cuisine from Mexico at the Willey Cultural Center, 140 Fifth Street in Gilroy, CA. To purchase tickets, visit: http://eventbrite.com/
4th Tequila and More Spirits and Cocktails Show expected 4-5 May 2014,Toronto, Canada
For the forth time in Ontario, you will have an opportunity to taste different brands of Tequila, Mezcal, Mexican beer, wine and cocktails all under one roof at The Tequila and More Show. The 2012 event was held at the Metro Toronto Convention Centre on 4-5 May 2012, from 4:00 pm to 10:00 pm. For more information, visit: http://tequilaandmore.com/lang/en/vizit/about-the-show/
Los Angeles Spirits Expo, 9-10 May 2014
The event will be held at a Movie Studio lot in Downtown Los Angeles. Bar owners, managers, bartenders, liquor representatives, distillers, and the public are invited to join in on two days of seminars, demos, discussions, classes, and tastings. For more information, visit: http://laspiritsexpo.com/
3nd Annual Ohio Tequila Festival, Cleveland, May 10th 2014
The 3rd annual Ohio Tequila Festival will be held Saturday May 10th at Zocalo Mexican Grill and Tequileria located at 2071 E. 4th street Cleveland OH 44115. Tickets cost $30 to $50. The tequila festival will offer tequila samplings, scrumptious hors d'oeuvres, educational workshops, and a margarita showdown. For more information, visit: https://ohiotequilafestival2014.eventbrite.com
3rd Annual Vancouver International Tequila Festival, 31 May 2014
The Third Annual Vancouver International Tequila Expo will take place on May 31, 2014, at the Hyatt Regency Vancouver. Vancouver Agave Week featuring educational seminars and brand seminars will take place preceding the Expo from May 25-30. For information, visit: https://www.facebook.com/Tequilaexpo
Spirits of Mexico, New York, 29 May 2013
The 2012 event was held at the Agave Restaurant in New York city, located at 140 Seventh Avenue South. Master distillers and blenders, authors, mezcaleros, tequileros, mixologists, aficionados and ambassadors from various brands all meet at Agave NY to share their skills, experience and their spirits. Sample dozens of signature styles of tequilas, mezcals, sotols and more from Mexico. Seminars to be announced. For more information, visit: NYC Spirits of Mexico Main Event
8th Annual World Tequila Day, Amatitan, Jalisco, 27 May 2014
Many historians have long believed Tequila (mezcal wine) was being produced in Amatitan, Jalisco back in the 16th century. Some historians and officials claim the oldest known tequila producing factory was discovered in 2008 on the El Caballito Cerrero Ranch in Amatitan (just a few kilometers east of the town of Tequila). Ancient fermentation tanks, ovens and mills were found at this location by tequila historian Claudio Jimenez Vizcarra. [1] To view photos of this historic production area, click here on Tecuane Canyon Ruins. The Mayor of Amatitan is working with other politicians in Mexico to establish "World Tequila Day" as a national holiday in celebration of Mexico's tequila Heritage. The event is also aimed at increasing awareness and recognition for Amatitan as being an origin of tequila. Allthough the 4th and 5th annual events were less entertaining, the 3rd event on 27 May 2009 included performances by traditional dancers from various parts of Mexico and entertainment by two distinctive mariachi bands. Throughout the 2009 event, a group of locals worked vigorously to break the world record for making/serving the most margaritas at a single time - 7000 MARGARITAS! For more details and photos of the celebration, click here on WORLD TEQUILA DAY 2009.
[1] DISPUTING TEQUILA'S ORIGINS, Article written by Guadalajara Reporter Staff, Saturday, 02 August 2008 GUADALAJARA REPORTER
San Felipe Tequila Festival, 8 June 2013
Festival will be held at Parrot's Cracker Restaurant from 1pm to 5pm on June 8th, 2013. Experience live music, great food and of course, tequila! For more information, visit: San Felipe Tequila Festival
6th Annual San Diego Spirits Festival, 23-24 Aug 2014
The San Diego Spirits Festival is Lifestyle focused and offers a multi-faceted event which will appeal to the novice cocktail lover, culinary enthusiast, fashonista and even the experienced Mixology pro. The 6th annual festival will be held at the Port Pavilion on Broadway Pier. For more information, visit: http://www.sandiegospiritsfestival.com/shake-it-up-become-a-sponsor/
5th Annual Santa Barbara Tequila Harvest Festival, 30 Aug 2014
Sample Premium and Ultra Premium Tequilas and Mezcals ranging from legendary distilleries to master crafted estate grown brands straight from the heart of Mexico. The event will be held Saturday, 30 August 3pm to 7pm at Elings Park, 1298 Las Positas Rd, Santa Barbara, California, 93105. For more information, visit: Santa Barbara Tequila Harvest Festival
Expo Tequila Tlaquepaque, Jalisco, 4-7 Sept 2014
For more information, call the Tlaquepaque Chamber of Commerce at 1-800-980-9074.
To view photos of the 2012 and 2013 Tequila Expos in Tlaquepaque, visit: Photo Gallery Selection
Spirits of Mexico, San Diego CA, 15-21 Sept 2013
The annual Spirits of Mexico, the largest, oldest and most comprehensive agave festival in the United States kicks off on September 15th with the main event planned for 21 Sept. The event will be held in the Old Town San Diego State Historic Park. For more information, visit: Spirits of Mexico San Diego
To view photos of the 2010 Spirits of Mexico Main Event, visit: Tequila Connection Photo Gallery
Fifth Annual Monterey Tequila and Mezcal Expo, 12 October 2013
This event is a tribute to the rich and colorful history of Tequila and Mezcal and provides a unique opportunity to learn more about these traditional spirits as attendees experience the true essence of tequila and mezcal firsthand. The Expo will be held at the Museum of Monterey, 5 Custom House Plaza, Monterey, CA 93940. For more information, visit: Monterey Tequila and Mezcal Expo
13th Annual Expo Tequila, Tijuana BC, Mexico 9-13 Oct 2013
The 2013 Tequila Expo will be held at Ave. Revolution and Calle 7ma. in Centro Tijuana, Baja California, Mexico. The dates for this event seem to fluctuate so it's best to confirm with the Tijuana Tourism Bureau (telephone from the US is 1-888-775-2417). This Expo, advertised as the biggest tequila event in Mexico, combines different aspects of Mexico's culture (traditional Mexican cuisine, mariachi music, and dancers combined with a huge selection of agave-based spirits). There are numerous booths manned by Tequila/Mezcal representatives offering samples of their brands. There is plenty of tequila available for purchase throughout the event. Entrance fee is nominal. Click here to view photos from the Tijuana 2010 EXPO TEQUILA or 2012 EXPO TEQUILA.
4th Annual Arizona Taco Festival & Tequila Expo, Scottsdale, 19-20 October 2013
Many taco teams will compete for $10,000 offering tens of thousands of tacos to event attendees. Other familiar parts of the fiesta will return: Lucha Libre wrestling, live surf music, cooking demonstrations, mariachi bands and $2 tacos everywhere. $20 admission to the Tequila Tasting Tent buys you 10 samples from 30 different brands (over 100 different tequilas to choose from). Event will be held on the grass at Salt River Fields in Scottsdale, AZ. Free parking for all. For more information, visit: Arizona Taco Festival - Tequila Expo
LA International Spirits Expo 21-26 October 2013
The LA International Spirits Expo holds its 1st annual competition at the Los Angeles Convention Center on October 21st - 26th. This Expo will become the platform for new and mature companies that produce spirits alongside companies that make their market around spirits. This EXCLUSIVE EVENT gives the participants the exposure they deserve to be successful in the global spirits market and industry.
For more information, visit: LA International Spirits Expo
4th Annual Austin Tequila Fest, Austin Texas, 1 November 2013
Festival will be held at Casa Chapala, 101 San Jacinto Blvd, on Friday, Nov. 1, from 7 pm to 10:30 p.m. Guests vote for their favorite agave spirits from among the many distilleries represented. Tickets include 10 tasting tickets to sample from tequila and mezcal vendors, snifter glass, tasting notes, Mexican cuisine and live music. Tickets are $27 each. Guests must be 21 or older to attend; and photo ID is required.
For more information, visit: 4th Annual Austin Tequila Fest
Phoenix Tequila Fest, 23-24 November 2013
The event will take place at the US Airways Center, 201 East Jefferson Street in Phoenix, Arizona. Sample blancos, reposados, and añejos premium and ultra premium tequilas ranging from legendary brands to boutique spirits distilled in the heart of Mexico. Enjoy continuous live entertainment and meet tequila enthusiasts from all over the world in a festive atmosphere filled with holiday cheer. For more information, visit: http://www.phoenixtequilafest.com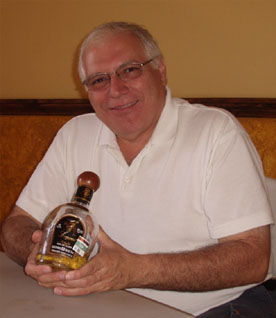 Tours to the Land of the Blue Agave
As of 2009, there are a limited number of tour guides for hire that will pick you up at your hotel in Guadalajara and shuttle you (and your group) to tequila distilleries. If this is something you would like to do, I recommend you consider touring with David Ruiz, Tequila Expert and Consultant. Mr. Ruiz is an excellent interpreter, very helpful if you don't speak Spanish. His tours are custom private tours for select guests that want to learn about tequila and sample some of the finest tequilas available. He explains history, culture, and the production process and his outfit has special agreements with leading boutique tequila brands allowing tasting of their ultra premium tequilas not normally available to visitors. Tequila Tours.com is registered with the Mexican Secretary of Tourism. For more information, visit: http://www.tequilatours.com/
An alternative might be to take a tour with Clayton Szczech at "Experience Tequila". Although I have not personally taken this tour, it appears interesting and well organized. For more information, visit: http://www.experiencetequila.com/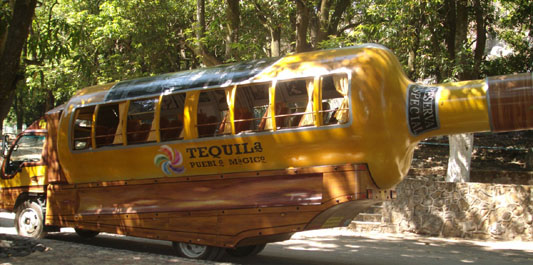 Another option is to take the bus from Guadalajara (Centro Viejo Autobus also known as the "Old" bus station) to the town of Tequila. There are museums and distilleries within walking distance of the main plaza and you can easily arrange tours (including transportation) to a few local distilleries with tour groups departing the central plaza. Busses run frequently throughout the day back and forth between Guadalajara and Tequila. We found this is not the case from the new bus station in Guadalajara.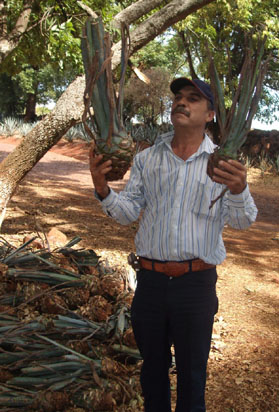 Touring the Arandas area is a bit more difficult as most distilleries do not give tours on a regular basis, and they are not nearly as accessible as those in the town of Tequila. It can be hit or miss when you show up (if there will be someone available and willing to give you a tour). Hiring a tour guide to visit the highland distilleries around Atotonilco and Arandas is recommended. Another possibility is to hire a taxi for the day with a driver that knows the area. If you don't speak any Spanish, this may not be your best option. We did a bit of both by hiring a tour guide (David Ruiz) who picked us up in Guadalajara and dropped us off at a hotel in Arandas after visiting distilleries in the Los Altos area. The next day we hired a taxi driver who took us to visit three more distilleries near Arandas. Our driver on this occasion (Jose Navarro) spoke some English and his rates were reasonable. We took the bus back from Arandas to Guadalajara. The trip takes about 2 1/2 hours and cost less than $10 per person (one-way). The bus from Arandas to Guadalajara arrives at the new bus station in Guadalajara. This is a huge bus station (multiple terminals) with connections to major cities throughout Mexico.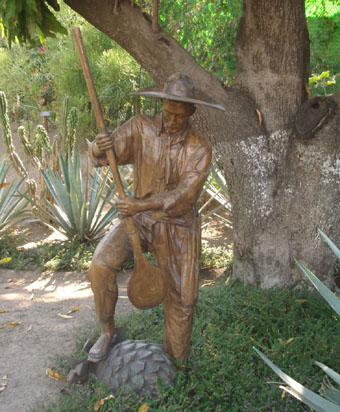 We were impressed with many of the distilleries we toured. If you get the chance, I recommend you visit Hacienda San Jose del Refugio (Herradura), Los Abuelos (Fortaleza), La Cofradia & Casa Noble, Espolon (Cabo Wabo), Siete Leguas (7 Leguas), and Tequila 1921. I'm sure there are others just as worthy, but we simply ran out of time. To view photos of some of the distilleries, visit our DISTILLERY PHOTO GALLERY section of this website.
Unfortunately, we were unable to tour the production area of Cazadores because we were wearing short pants. I understand they also have a restriction for ladies wearing high-heeled shoes.

Photos are not to be reproduced or duplicated without written permission from TequilaConnection.com. Your cooperation is greatly appreciated.
[HOME ] [TOP][PHOTO GALLERY]