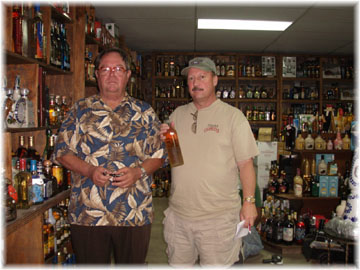 In my opinion, the best place to buy tequila is the place that offers the tequila you want at the best price. For those visiting northern Baja California, I can recommend a few places that offer a good selection and reasonable prices. My first choice for selection is Mercado Del Mar near Rosarito Beach. This gem is located about one mile south of the Rosarito Beach Hotel on the east side of the main boulevard (BLVD Popotla #3135 km 29.5). It's not easy to find, but it's worth the search. In the back of the store there is a large room stocked full of tequila. The manager, Blas Garcia, is very knowledgeable about tequila. Tell him TequilaConnection.com sent you. If you buy 3 or more bottles, you could get a 10% discount. For photos of his selection, go to Mercado Del Mar. Don Pistos and 5 Y 10 Liquor stores are additional options in the Rosarito Beach area. There is also a Don Pistos in Puerto Nuevo.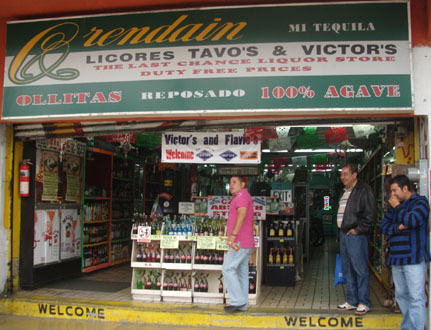 In the Tijuana area, the Orendain (Licores Tavo's & Victor's) liquor store on Avenida Revolucion between 6th and 7th (close to the Jai Alai Palace) offers a good selection of premium tequila. They have hundreds of brands on stock. Tell them TequilaConnection.com sent you and you will receive a 5% discount. Rodrigo and his brother Hans come from a family deep with tequila tradition (Orendain). As a result, they are knowledgeable with respect to the tequila industry and the many brands they carry. As of June 2009, this is the only liquor store I've found in Tijuana that stocks many of my favorites, such as El Tesoro, 7 Leguas, Don Valente, Con Orgullo, Herencia and Hacienda De Oro Tequila.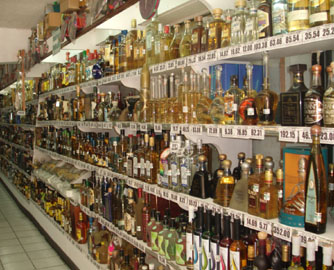 Another option in downtown Tijuana is Leyva's Liquor. Gilberto Leyva Nuño has hundreds of tequila brands at competitive prices. His store is located at #1026 AV Avenida Revolucion (also between 6th and 7th). Pretty good chance you can find your favorite brand at one of these two stores.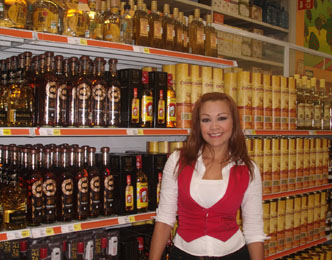 The Commercial De Mexicana store at Plaza Rio in Tijuana has good prices and a fair selection of low-to-mid-range tequilas. However, they do not have much to offer as far as high-end tequila. They did sell Don Julio and Herradura Añejo at a fair price in 2009. Another option for low-to-mid-range tequila is Soriana, located between 2nd and 3rd on the east side of Revolucion, Tijuana Centro. Although they have some good prices, their selection seems to have diminished in 2009 (after the store changed from Gigante to Soriana).
There is a Tijuana Duty Free Store on the east side of I-5 and just south of the border crossing at San Ysidro. This store has competitive prices but a fairly limited selection. It is conveniently located for last minute shoppers walking across the border to the US (Address: Rampa Xicotenencatl # 201 Zona Urbana Rio Tijuana). Often times, Soriana, Commercial de Mexicana, Duty Free shops, and even liquor stores in Tijuana offer free tastes (limited selection) of their products.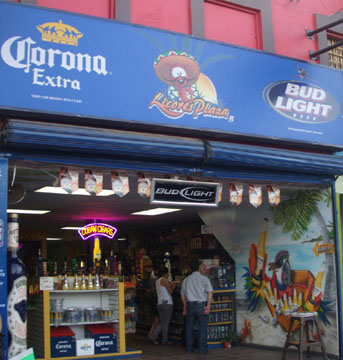 If you find yourself in the tourist area of Ensenada, and in need of a bottle of quality tequila, you may want to check out Licores Plaza at AV. Lopez Mateos # 578 (Zona Centro). This store is managed by Jose Perez. He has a decent selection of tequila, however the prices are a bit on the high side. Tell Jose that TequilaConnection sent you and you will receive a discount.
There are also some Duty Free stores on the USA side of the border in San Ysidro, CA. These stores have a limited selection of tequila at duty-free prices, but you need to be crossing the border (into Mexico) in order to purchase tequila.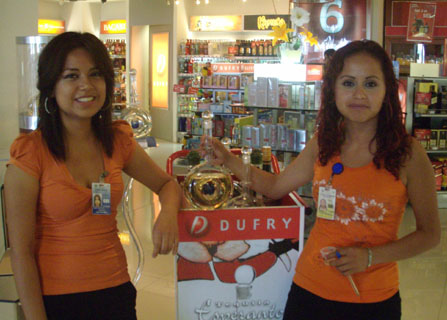 Most International Airports have Duty-Free stores and some in Mexico have a great selection of tequila. You must show your airline ticket (indicating you are on a flight leaving Mexico) in order to purchase liquor at the airport Duty-Free shops. For example, there are several Duty-Free shops at the Guadalajara International Airport that have a great selection and offer samples of selected brands.
All stores mentioned above accept US dollars or Mexican pesos. Sometimes you get a lower price if you pay with pesos, depending on the exchange rates you encounter. If you plan to bring your tequila to the US, you should be aware of limitations on how much you can declare at US Customs. For more details, see below.
BUYING TEQUILA ONLINE
Another option is to do your tequila shopping on the Internet. As you might expect, Internet prices for tequila can vary significantly. Visit the site to determine what they have in stock, what they charge for the product, what they charge for shipping/handling, and any shipping restrictions they may have. TequilaConnection.com does not sell tequila. We do not know which of the following sites has the best price for the tequila you desire, or if they stock the brand you are looking for. We also do not know if these sites have any history of poor performance. This list is provided as a courtesy, not a recommendation.
INTERNET SITES SELLING TEQUILA
ARGONAUT WINE & LIQUOR http://www.argonautliquor.com/
BEER LIQUORS http://www.beerliquors.com/
BEVERAGES & MORE (BEVMO) http://www.bevmo.com/Default.aspx
BEVERAGE WAREHOUSE http://www.beveragewarehouse.com/
COCKTAILS & DREAMS (Germany) http://www.barfish.de/catalog/index.php/cPath/1_18_22/
CROWN WINE & SPIRITS http://www.crownwineandspirits.com/
DRINKS DIRECT (United Kingdom) http://www.drinksdirect.co.uk/index.html
DRINK UP NY http://www.drinkupny.com/tequila
HI-TIME WINE CELLARS http://www.hitimewine.net/
INTERNET WINES & SPIRITS http://www.internetwines.com/
K&L WINE MERCHANTS http://www.klwines.com/
MISSION WINE & SPIRITS http://www.missionliquor.com/Store/Qstore/Qstore.cgi
MY SHOPPING.COM.AU (Australia) http://www.myshopping.com.au/
OLD TOWN LIQUOR - TEQUILA SUPERSTORE http://www.oldtowntequila.com/
PACIFIC ONLINE SPIRITS http://pacificonlinespirits.com/the-tequila-garden.aspx
QUALITY LIQUOR STORE http://www.qualityliquorstore.com/
RAMIREZ LIQUOR, WINE, SPIRITS & KEGS http://www.ramirezliquor.com/
RIVERWALK WINE & SPIRITS http://www.riverwalkwineandspirits.com/default.aspx
SAN FRANCISCO WINE TRADING CO. http://www.sfwtc.com/
SHOPPERS VINYARD http://www.shoppersvineyard.com/store/pc/Tequila-Mezcal-Sotol-c338.htm
TEQUILA - SHOP.NET (Germany) http://www.tequila-shop.net/
THECELLARONLINE.COM http://www.thecellaronline.com/
THE DRINK SHOP (United Kingdom) http://www.thedrinkshop.com/
THE WHISKY EXCHANGE (United Kingdom) http://www.thewhiskyexchange.com/
WALLY'S WINE & SPIRITS http://www.wallywine.com/
WINE AND LIQUOR DEPOT http://www.wineandliquordepot.com/
WINE CHATEAU http://www.winechateau.com/category_Tequila
WINE EXCHANGE http://www.winex.com/default.aspx
WINE GLOBE http://www.wineglobe.com/
SOURCES:
Background music by: Roger Clyne and the Peacemakers.
CROSSING THE US / MEXICO BORDER
It is always a good idea to check with US Customs when traveling internationally to obtain the latest information on a particular region. If you plan to drive in Mexico, it is highly recommended you purchase auto insurance. If you get into an accident and you don't have insurance, you could be in a lot of trouble (jail time / heavy fine / etc.).

Below are a couple frequently asked questions and answers courtesy of the US Customs Office at: http://www.cbp.gov/
What documents, identification, paperwork does a U.S. citizen or legal permanent resident (LPR) need to travel internationally? If you are traveling in the Western Hemisphere, (Canada, Mexico, Caribbean, Central and South America):
1. ALL persons*, including U.S. citizens, traveling by air between the United States and Canada, Mexico, Central and South America, the Caribbean, and Bermuda are required to present a valid passport, Air NEXUS card, or U.S. Coast Guard Merchant Mariner Document.
2. Oral declarations are no longer accepted from U.S., Canadian or Bermudan travelers seeking to enter the U.S. by sea and/or land. Travelers will need to present a valid government issued ID and a birth certificate or naturalization certificate.
3. On June 1, 2009 all U.S. and Canadian citizens who are 16 and older traveling between the U.S. and Canada, Mexico, Central and South America, the Caribbean, and Bermuda by land or sea (including ferries), will be required to present a valid passport or other alternative documents as determined by the Department of Homeland Security. U.S. and Canadian citizens who are 15 years old or younger will still be allowed to travel with just a copy of their birth certificate, as will teens between the ages of 16-18 if they are part of an adult supervised school, religious, cultural or athletic group,
*Military personnel traveling under orders may present photo ID and orders. Family members must present a passport (with the exception of children 15 and younger arriving by land or sea).
Can I bring back alcohol for my personal use or as a gift?
Don't take this as gospel because it isn't. This is only from my experience. Regulations can differ by state. Generally, when crossing by car or on foot into California, one liter per person may be entered into the U.S. duty-free by travelers who are 21 or older, although travelers coming from the U.S. Virgin Islands or other Caribbean countries are entitled to more. I believe with most airlines, the limit is 5 liters. The bottles must be sealed and put into your checked luggage. It is not legal for travelers under the age of 21 to import alcohol - even as a gift.
For additional information, visit U.S. Customs and Border Protection
[HOME ] [TOP][PHOTO GALLERY]