2012 TRIP TO JALISCO -
TEQUILA COUNTRY (Part 2)
Wednesday morning, September 12th, following breakfast at the Hacienda Vieja Restaurant, we negotiated taxi transportation for the day's visit to the Rancho La Joya Distillery. This distillery is about 30 minutes drive from the hotel.
We arrived and after clearing security are greeted by Ivette Gonzalez, Supervisor of Sales. We watched a video about their tequila production and jumped right into tasting Rancho La Joya Blanco and Reposado. It's only about 11 am, but surely it's five o-clock somewhere.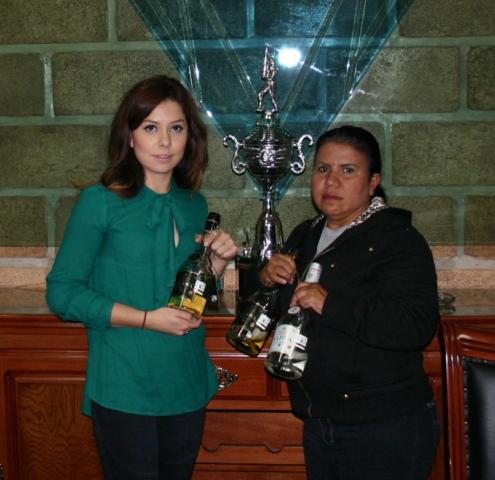 We are joined by Master Distiller Carmen Cervantes whom is very interested in our opinion regarding the aromas and flavors of their tequila.

We take our time noting herbal and citrus aromas/flavors and a clear agave presence in the Blanco. The Reposado had similar aromas along with some wood notes but upon tasting, we found it to be a bit more on the fruity side. Both had a creamy consistency and a lasting finish.

Following the tasting, we are led by Ivette and Carmen on a detailed tour of their production area.

It is explained the distillery is owned by the Garcia family. Currently they only bottle Rancho La Joya Blanco and Reposado tequila, but their Añejo (now in the barrels) is planned for release in January 2013.

We can't help but notice the beauty of this hacienda style facility. There is even a partial golf course at this location.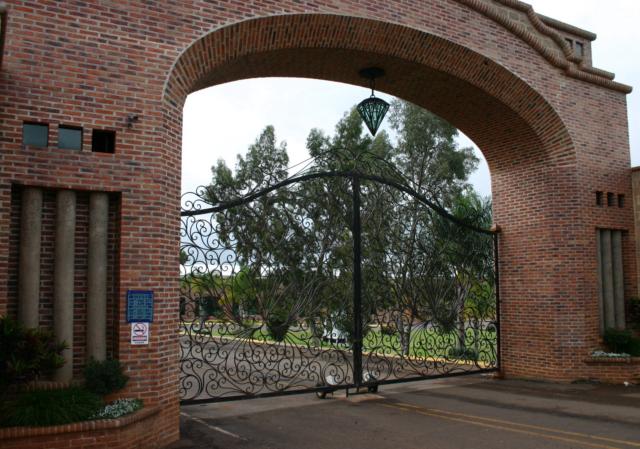 Upon completion of our tour, we migrated to the patio to wait for our taxi where we are joined by Isaac Garcia, General Manager at Rancho La Joya. He sent us on our way with a generous supply of Rancho La Joya Tequila!

A big thanks to Isaac, Ivette and Carmen at Rancho La Joya for a great visit to their awesome distillery. Additional photos can be viewed at: Rancho La Joya Photo Gallery


After a brief stop at our hotel, we made our way to the Vivanco distillery (producers of Viva Mexico). Rene and I visited this distillery in May 2011, thus this was more for John's benefit and also to say hello to the folks at Vivanco while we are in the neighborhood. Manuel Vivanco Jr. was there to show us around.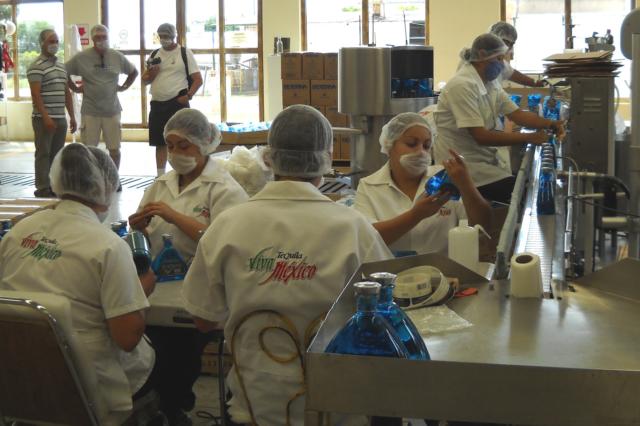 Unlike our visits to Galindo, Hacienda Vieja and Rancho La Joya, Viva Mexico is producing tequila at the time of our visit. Manuel explained the history of his family as it relates to the tequila business.

As he walked us through their small facility, we smelled agave baking in the stone ovens. We listened to classical music from speakers located above the fermentation tanks. We watched their bottling line in action and then sat down to taste some Viva Mexico Blanco, Reposado and Añejo tequila. This is a family owned and operated distillery which uses only estate-grown agave for their tequila.

Our conversation turned to Manuel's involvement with a team of charros that compete at local rodeos. His eyes lit up as he informed us his team (Charros Tequila Viva Mexico) will be riding in the huge parade of horses during the upcoming Independence Day weekend. Over 2000 horses participate in the famous Arandas holiday parade.

Thanks again to Manuel for another pleasant visit to Viva Mexico!

Additional photos can be viewed at: Viva Mexico Photo Gallery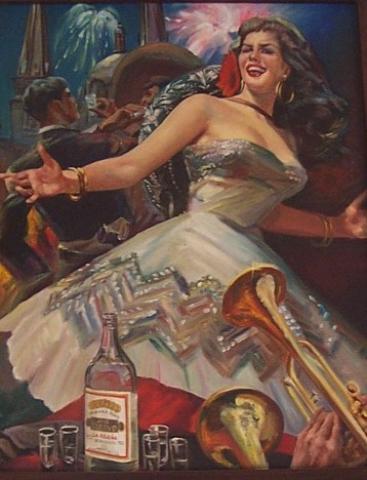 On Thursday it was time for a change in scenery. We had a hearty breakfast, packed our bags and headed for the Tequila Valley.

Our travel plans to take the bus back to Guadalajara, transfer to another bus station, then take another bus to the town of Tequila are abruptly modified. A taxi driver offered to take us all the way to Tequila for a fee we could not refuse.

Our bags, now bursting at the seams due to our growing collection of tequila, are jammed into the trunk and off we go. Our driver chose a different route with less traffic and no construction. We made it through Guadalajara before lunch and arrived in the town of Tequila by early afternoon.

Our rooms were ready and early check-in at the Hotel Casa Dulce Maria was not a problem. I made a couple quick phone calls to Fortaleza and Casa Noble to firm up our schedule.

Our fun in the Tequila Valley was about to begin.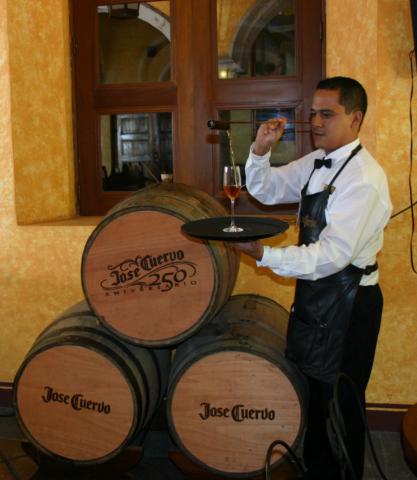 After the long taxi ride from Arandas, we were ready to stretch our legs. Our first stop, Mundo Cuervo, was walking distance from our hotel. The Cuervo Facility is huge. They offer a variety of public tours daily. Rene and I both took a tour last year thus we all decided to hang out at the bar.

The bartender remembered us from last year's visit. We indulged in a satisfying glass of Reserva de la Familia, Jose Cuervo's top of the line product. It was served straight from the barrel (before being diluted with water to achieve the proper alcohol level). We were pleased with the intense aromas and flavors of this premium spirit.

We had another glass of Reserva de la Familia, this time poured from the bottle. The flavors are toned down slightly. Even so, this is an exceptional tequila.

Additional photos of the Cuervo Distillery can be viewed at: La Rojeña
Next stop was La Capilla Bar where owner Don Javier Delgado, 89 years young, mixes his creation known as the Batanga (a hefty amount of tequila, Coca-Cola, and fresh squeezed lime served in a tall glass with a salted rim). It's the hot part of the day and these babies are refreshing.

Don Javier always lays out snacks for his patrons to nibble on while they enjoy their beverage of choice. La Capilla is the oldest cantina in the town of Tequila. Don Javier, well-respected in the world of mixology, has over 70 years bartending experience and a knack for making customers feel welcome and comfortable.

We exited La Capilla Bar feeling pretty happy. Later that evening, we had dinner and a bottle of Rancho La Joya Reposado at an upstairs restaurant overlooking the main boulevard leading to the central plaza. It was Thursday evening before the Mexican Independence Day weekend and the town was fairly quiet (except for 3 noisy gringos). We finally decided it would be best to call it a night and get some rest.

Friday morning we had breakfast at the little cafe in front of the main church. For some reason our attempt to order eggs "over-easy" again gets lost in translation. Why is this so difficult? Never mind; we are in a rush to make our 11AM appointment at Herradura's Distillery in the neighboring town of Amatitan.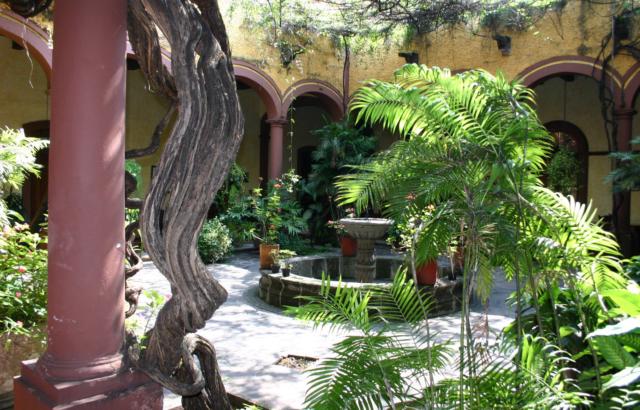 We arrived by taxi on schedule where we joined a small group of people waiting for the tour. Little did we know at the time we were being paired up with some rather important folks.

Our guide, Ruben Aceves, led us on an excellent tour of Casa Herradura. I soon realized this one would be more in-depth than tours I had taken during previous visits to this distillery.

We visited parts of the Hacienda I had not seen before and are offered the opportunity to taste the product at nearly every stage of development. Turns out one of the guys in our group is there to purchase an expensive barrel of tequila immediately following the tour.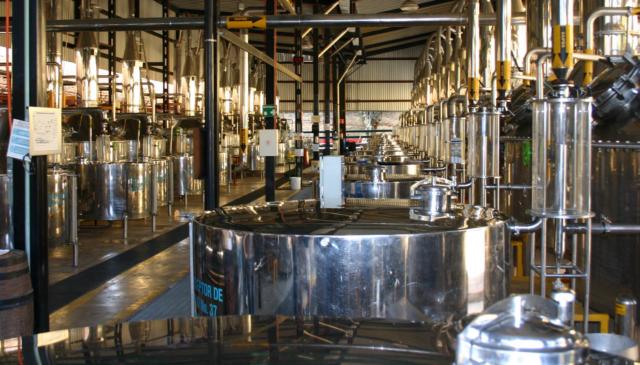 Following a thorough visit to plant 4 production area where they are in the process of shredding the cooked agave, we visited the large fermentation and distillation buildings. This distillery is massive and our guide is very informative.

Along the way we watched as a Jimador demonstrated his skill harvesting the agave plant. A few of the group took their turn at shaving down the piña. They quickly realized this is no easy task. Jabs of criticism are tossed around as our tour group members fail to achieve the desired results.

After visiting the production area, Ruben walked us through the old factory known as "fabrica Antigua". Many years ago tequila was produced here using a process that has since been abandoned by tequila manufactures.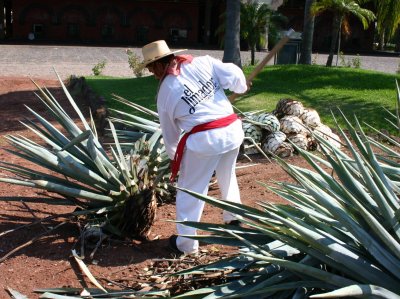 A large stone wheel known as a "tahona" was used to crush and grind the cooked agave to separate the sweet juice from the fibers. The agave juice was then moved by buckets to large stone-lined pits (where it was left to ferment). Although a few tequila producers currently use the tahona, I don't believe any are fermenting their agave juice in ground pits.

The task of harvesting the agave is still performed by the hands of a hard-working jimadors. However, over the years as you might expect, technological advances have driven changes to production methods. This is not necessarily a good thing as the tequila's characteristics change along with each modification to the production process.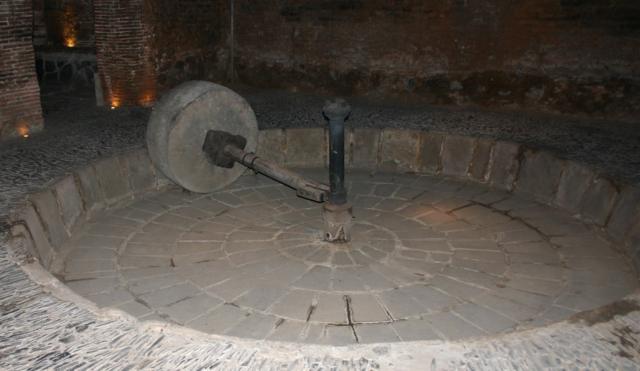 Pictured right, is the "tahona" once used at the "Fabrica Antigua" (Old Factory) to crush the cooked agave.

Herradura, aka Hacienda San Jose del Refugio, has done a great job preserving the old production area. If you ever visit the town of Amatitan in Jalisco, I recommend you make time to visit this historic site.

As we headed for the barrel room, Ruben explained the aging process for their "Double-Barrel" program. Herradura Reposado that has rested in used whisky barrels for eleven months is transferred to a new barrel for one additional month. The barrels contain about 200 liters each, depending on evaporation. The precious tequila that evaporates during aging is known as the "angel's share".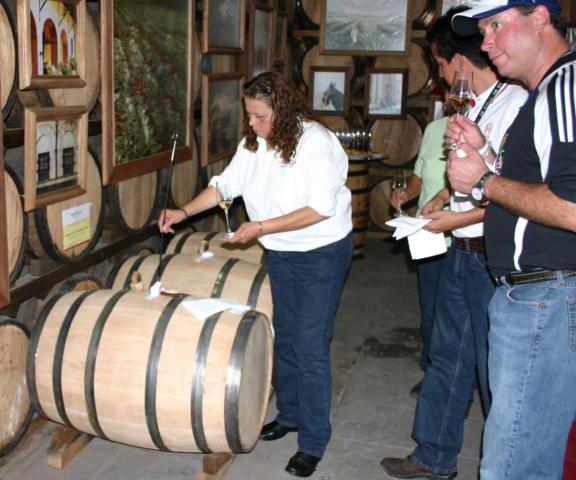 Next we found ourselves in the area where three such barrels awaited tapping. This is the part of the visit where Roger Sachs, Co-Owner of Steiner's Pub in Las Vegas, gets to sample from three "double-barrels" to select which one he will be purchasing.

It is mentioned that we too could purchase a similar double-barrel for about $9,000 USD.

The barrels are unsealed before our eyes and samples are poured in Riedel glasses for each of us to taste. Roger has requested we all participate by tasting each and selecting our favorite.

All three of these double-barrel tequilas were good in their own way. However, one had stronger fruit notes and it was eventually selected under the notion it would be the best choice for mixing as well as sipping.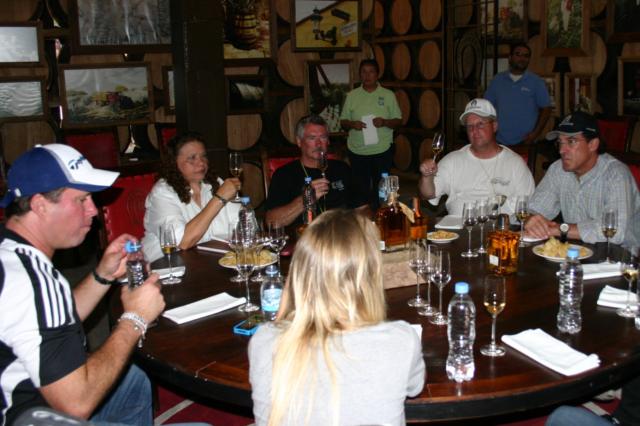 Roger formally announced which barrel he would be purchasing and then offered an additional glass to everyone who wanted it. Yep, most everyone did.

Ruben explained to the group it was now time for lunch. I asked Nick, the Aussie from Mamasita Restaurant in Melbourne, if we were all invited to lunch. He responded "I'm riding this thing till the wheels fall off". I smiled and nodded with concurrence.

We were treated to a catered buffet-style lunch out on the lawn under some shady trees. A flavorful "Tamarindo Margarita" was brought to each of us as we sat down. Appetizers were delivered along with fresh-made tortillas.

Over at the buffet station was a nice selection of meats along with vegetables, rice and beans. There was a bartender on hand to fetch the tequila of your choice. Herradura's top tequila, Seleccion Suprema, was getting a lot of calls during the desert course.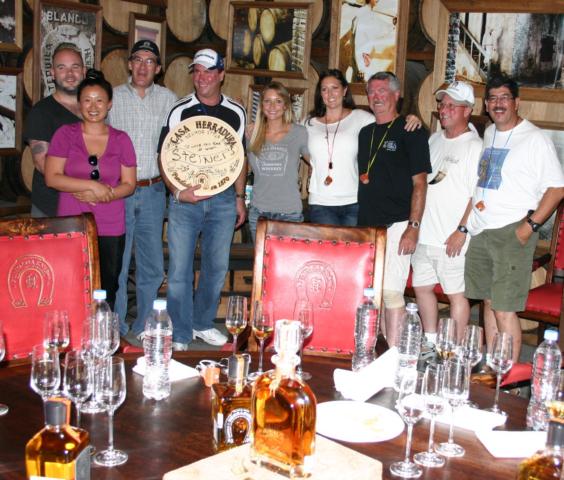 By the time we were finished eating, conversing and sipping Herradura tequilas, it was late afternoon and time to head back to the hotel.

A big thanks to the folks at Brown Foreman, Herradura and Roger at Steiner's for including us on this very memorable day.

Additional photos of Herradura Distillery can be viewed at: Herradura Distillery

Early Friday evening I took a short walk to the store. I felt the wind picking up and noticed some ominous clouds quickly approaching. Five minutes later as I left the store the clouds unloaded a wave of hail (what the hail?). I found cover at the corner liquor store across the street from our hotel and watched as the wind started hurling the hail sideways. A group of screaming school children darted in next to me. Before long the hail turned into a monsoon style downpour. The street became a rapid moving body of water halting traffic at the intersection. I watched as a small tree was blown down on top of a parked motorcycle. A road sign tumbled down the street propelled by the swift moving current. After awhile, the school kids decided they needed to cross. Holding hands they formed a chain and carefully waded through the fast moving water. The natives were taking videos with their cell phones. Unfortunately, my camera was on the wrong side of the river and I wanted to stay dry.

PART 3 - THE FESTIVE FINISH

Click here to view a photo gallery comprised of images from our 2009 through 2012 Jalisco Trips